Last night I've been transmitting for the first time after the summer period. A new look to the the TX antenna was made to simplify the shape and get more gain. Now the hat is about 16 meters long and the vertical side is about 9 meters high.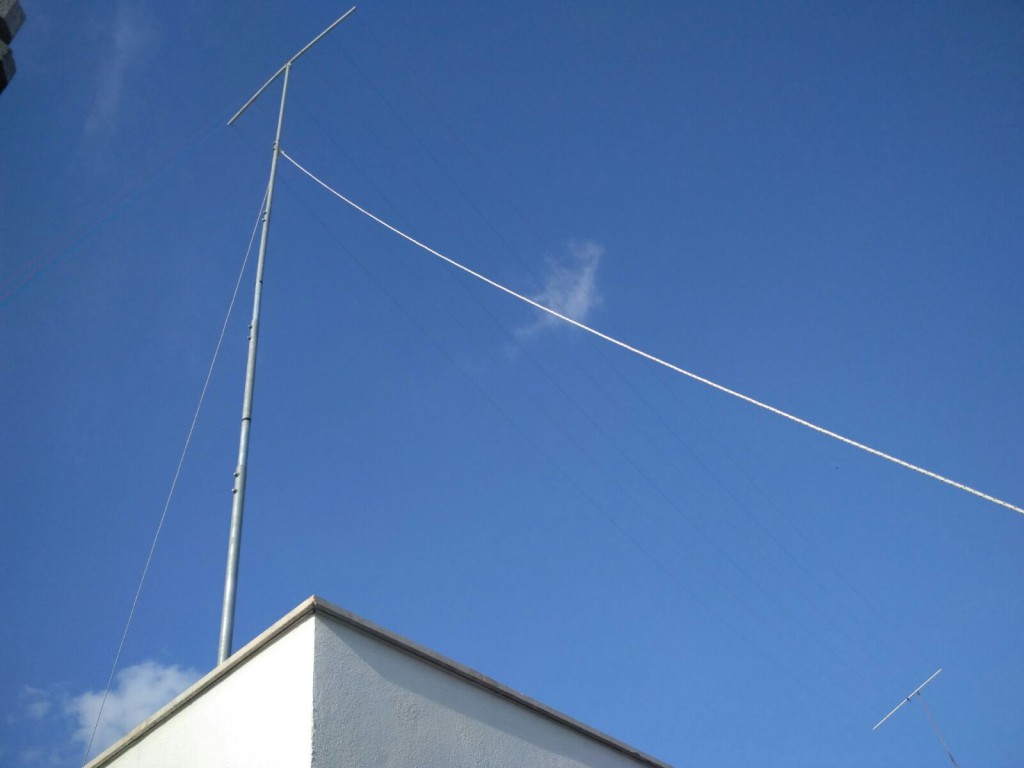 The 6 wires of vertical slope are almost invisible on the left.
This are the stations that copied my signal in a couple of hours of transmission: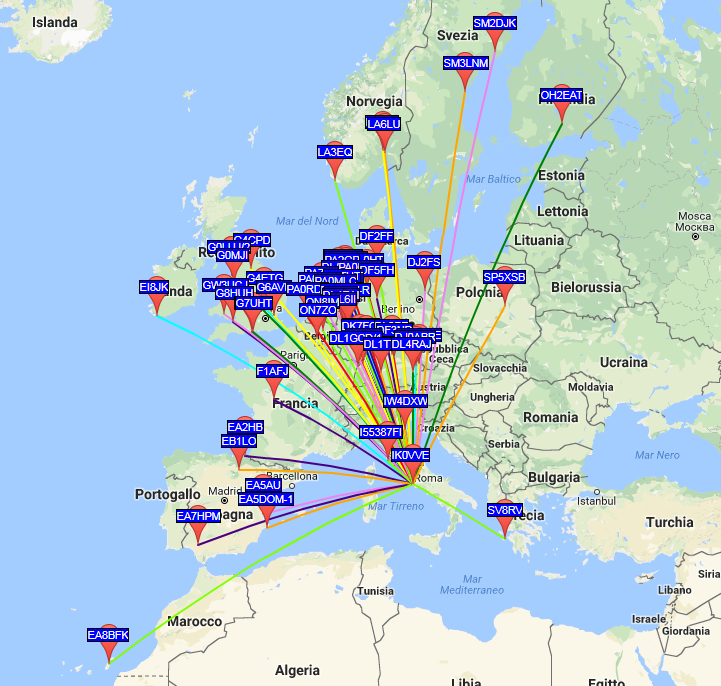 But a new "masterpiece" was build to remote tune the antenna in addition to the remote control of the variometer by a stepper motor, I've build a multi rotary switch to commutate the coils of antenna transformer without going out to the balcony changing the correct tip where to connect the antenna to get the right impedence. Soon a photo on these pages.
Log for stations over 1000 Km (61 different station overall):
| Timestamp | Call | MHz | SNR | Drift | Grid | Pwr | Reporter | RGrid | km | az |
| --- | --- | --- | --- | --- | --- | --- | --- | --- | --- | --- |
| 2017-10-03 20:40 | IK0VVE | 0.475757 | -28 | 0 | JN61km | 0.2 | EA8BFK | IL38bo | 2809 | 248 |
| 2017-10-03 20:40 | IK0VVE | 0.475757 | -21 | 0 | JN61km | 0.2 | SM2DJK | KP03au | 2526 | 8 |
| 2017-10-03 19:40 | IK0VVE | 0.475756 | -24 | 0 | JN61km | 0.2 | OH2EAT | KP20xw | 2333 | 18 |
| 2017-10-03 20:40 | IK0VVE | 0.475741 | -14 | 0 | JN61km | 0.2 | SM3LNM | JP82qg | 2327 | 6 |
| 2017-10-03 20:40 | IK0VVE | 0.475758 | -22 | 0 | JN61km | 0.2 | EI8JK | IO51do | 2046 | 311 |
| 2017-10-03 20:30 | IK0VVE | 0.475746 | -24 | 0 | JN61km | 0.2 | LA8AV | JO59cs | 2038 | 356 |
| 2017-10-03 20:30 | IK0VVE | 0.475757 | -27 | 0 | JN61km | 0.2 | LA6LU | JO59eq | 2027 | 356 |
| 2017-10-03 19:20 | IK0VVE | 0.475757 | -22 | 0 | JN61km | 0.2 | LA3EQ | JO28xj | 1938 | 348 |
| 2017-10-03 20:40 | IK0VVE | 0.475757 | -27 | 0 | JN61km | 0.2 | G0LUJ/1 | IO83ls | 1802 | 324 |
| 2017-10-03 19:10 | IK0VVE | 0.475757 | -28 | 0 | JN61km | 0.2 | G0LUJ/2 | IO83ls | 1802 | 324 |
| 2017-10-03 19:10 | IK0VVE | 0.475757 | -24 | 0 | JN61km | 0.2 | G0MJI | IO83ni | 1763 | 324 |
| 2017-10-03 20:40 | IK0VVE | 0.475757 | -24 | 0 | JN61km | 0.2 | G4CPD | IO94hc | 1751 | 328 |
| 2017-10-03 19:20 | IK0VVE | 0.475758 | -23 | 0 | JN61km | 0.2 | GW3UCJ | IO81cr | 1698 | 318 |
| 2017-10-03 20:40 | IK0VVE | 0.475757 | -22 | 0 | JN61km | 0.2 | EA7HPM | IM67xj | 1684 | 260 |
| 2017-10-03 20:40 | IK0VVE | 0.475758 | -15 | 0 | JN61km | 0.2 | G8HUH | IO81mg | 1622 | 317 |
| 2017-10-03 20:40 | IK0VVE | 0.475757 | -20 | 0 | JN61km | 0.2 | G4ETG | IO92uc | 1541 | 324 |
| 2017-10-03 20:40 | IK0VVE | 0.475758 | -15 | 0 | JN61km | 0.2 | G4ZFQ | IO90ir | 1492 | 318 |
| 2017-10-03 20:40 | IK0VVE | 0.475761 | -16 | 0 | JN61km | 0.2 | G7UHT | IO90jr | 1487 | 318 |
| 2017-10-03 19:10 | IK0VVE | 0.475757 | -19 | 0 | JN61km | 0.2 | G6AVK | JO01ho | 1457 | 324 |
| 2017-10-03 20:40 | IK0VVE | 0.475754 | -22 | 0 | JN61km | 0.2 | DF2FF | JO44th | 1442 | 352 |
| 2017-10-03 20:00 | IK0VVE | 0.475757 | -14 | 0 | JN61km | 0.2 | PA0A | JO33de | 1387 | 341 |
| 2017-10-03 20:40 | IK0VVE | 0.475757 | -23 | 0 | JN61km | 0.2 | PA0SLT | JO33kg | 1381 | 343 |
| 2017-10-03 20:40 | IK0VVE | 0.475757 | -16 | 0 | JN61km | 0.2 | PD0SBS | JO33le | 1371 | 343 |
| 2017-10-03 19:20 | IK0VVE | 0.475757 | -26 | 0 | JN61km | 0.2 | PA2GP | JO33hb | 1366 | 342 |
| 2017-10-03 20:40 | IK0VVE | 0.475762 | -22 | 0 | JN61km | 0.2 | PA7EY | JO22jj | 1354 | 336 |
| 2017-10-03 19:20 | IK0VVE | 0.475757 | -19 | 0 | JN61km | 0.2 | SP5XSB | KO02ld | 1330 | 25 |
| 2017-10-03 19:30 | IK0VVE | 0.475758 | -30 | 0 | JN61km | 0.2 | PA0EHG | JO22hb | 1328 | 335 |
| 2017-10-03 20:40 | IK0VVE | 0.475757 | -19 | 0 | JN61km | 0.2 | DL0HT | JO43jb | 1319 | 348 |
| 2017-10-03 19:20 | IK0VVE | 0.475759 | -12 | 0 | JN61km | 0.2 | PA0RDT | JO11tm | 1316 | 331 |
| 2017-10-03 20:40 | IK0VVE | 0.475759 | -24 | 0 | JN61km | 0.2 | DL/PA0EHG | JO32sq | 1305 | 344 |
| 2017-10-03 20:40 | IK0VVE | 0.475757 | -13 | 0 | JN61km | 0.2 | DJ2FS | JO62wx | 1276 | 3 |
| 2017-10-03 20:40 | IK0VVE | 0.475757 | -24 | 0 | JN61km | 0.2 | PI4THT | JO32kf | 1274 | 341 |
| 2017-10-03 20:30 | IK0VVE | 0.475757 | -20 | 0 | JN61km | 0.2 | PE1IWT | JO32kf | 1274 | 341 |
| 2017-10-03 20:40 | IK0VVE | 0.475759 | -19 | 0 | JN61km | 0.2 | EB1LO | IN82sk | 1270 | 280 |
| 2017-10-03 20:40 | IK0VVE | 0.475756 | -26 | 0 | JN61km | 0.2 | PA0MLC | JO31aw | 1269 | 338 |
| 2017-10-03 20:40 | IK0VVE | 0.475759 | -18 | 0 | JN61km | 0.2 | DF5FH | JO42um | 1246 | 350 |
| 2017-10-03 20:40 | IK0VVE | 0.475757 | -16 | 0 | JN61km | 0.2 | EA2HB | IN93ah | 1232 | 284 |
| 2017-10-03 20:40 | IK0VVE | 0.475756 | -23 | 0 | JN61km | 0.2 | DL6OW-R | JO31kk | 1194 | 340 |
| 2017-10-03 19:10 | IK0VVE | 0.475760 | -16 | 0 | JN61km | 0.2 | ON8IM | JO20ls | 1194 | 332 |
| 2017-10-03 20:30 | IK0VVE | 0.475758 | -25 | 0 | JN61km | 0.2 | DC5AL-R | JO31lk | 1191 | 340 |
| 2017-10-03 20:20 | IK0VVE | 0.475760 | -23 | 0 | JN61km | 0.2 | DC0DX | JO31lk | 1191 | 340 |
| 2017-10-03 20:30 | IK0VVE | 0.475756 | -14 | 0 | JN61km | 0.2 | DF2JP | JO31hh | 1188 | 338 |
| 2017-10-03 20:40 | IK0VVE | 0.475757 | -10 | 0 | JN61km | 0.2 | ON7ZO | JO20ei | 1180 | 329 |
| 2017-10-03 20:40 | IK0VVE | 0.475758 | -28 | 0 | JN61km | 0.2 | DL4EAI | JO31je | 1171 | 339 |
| 2017-10-03 20:40 | IK0VVE | 0.475759 | -26 | 0 | JN61km | 0.2 | EA5DOM-1 | IM98xn | 1146 | 258 |
| 2017-10-03 19:20 | IK0VVE | 0.475758 | -28 | 0 | JN61km | 0.2 | EA5AU | IM99tl | 1142 | 263 |
| 2017-10-03 20:40 | IK0VVE | 0.475754 | -13 | 0 | JN61km | 0.2 | DL6II | JO30nx | 1140 | 339 |
| 2017-10-03 20:40 | IK0VVE | 0.475759 | -11 | 0 | JN61km | 0.2 | F1AFJ | JN06ht | 1139 | 305 |